Between being busy and being tired, I haven't much wanted to post. But I had a full weekend, so I'll get you all caught up.
I decorated for Christmas! (and I made a MESS of my house doing so. All the rubbermaids, boxes and things are still strewn about the living room). This is the new shower curtain in the guest bath. Too cute!
Friday evening was pretty low-key. I cooked us dinner (steak, homemade mac and cheese, and fried squash) and we hung out watching TV. I also started reading The Hunger Games. Good, good, good book so far.
Saturday morning, I got up and sang for a fundraiser at a beautiful barn in town. It sits on this pond. The storm was rolling in, but you can see the gorgeous view.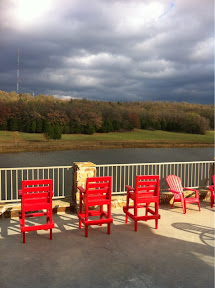 Inside is so homey! Lots of cedar, antiques, and beautiful quilts! LOVED theses quilts hanging in the great room.
The fundraiser was for the Arkansas Baptist Children's Home and was so fun. It was just a relaxed Christmas gathering with snacks and music. I sang, Jessica sang, Billie sang and Lou played piano, and a wonderful saxaphone player played. So fun to hang out with such godly women!
Then I ran to the mall to do a little shopping. I found a Christmas gift or two, and a few things for myself! Got a new robe and pjs for cheap at JC Penny, got some new bras and some clothes. Fun fun. I just love shopping alone.
Then I headed to Panache to get a facial. So relaxing and felt so good. I hate a love/hate with facials. I love them because about a week after my face looks and feels great. But immediately after, it always seems I break out. I know they extract blackheads and other gunk from your face, so it makes sense…but I wish I didn't have to wait for my skin to look all pretty and clear! 🙂
Then I came home to watch the Razorbacks play. GREAT game by my boys! And a crazy night of football! With Oregon and OU losing, we ended up ranked #3 in the BCS! Now we just have to beat LSU! (and please keep the Razorback team in your prayers….one of their players died of cardiac arrest yesterday. It has to be so tough to lose a friend unexpectedly).
Sunday we went to church. I just love our church. Bro. Ronnie makes us so intentional. He gave us direction and time to move around and talk with others about their needs. It is such an honor to pray for others, and it is so wonderful to belong to a church that encourages you to be open about your needs so that others can meet those needs.
Then we ate lunch with the Stovalls and I went grocery shopping.
I came home and did a bit more decorating and a tiny bit of cleaning, then napped while Tyler went to the RC track. We ate dinner at home and then had a relaxing night watching tv, talking and laughing. I love my husband so much! 🙂
Gram is up and down. Prayers for her continued healing are appreciated. She has days where she is so alert and understanding and energetic. Then there are days when she is so lethargic and won't respond at all. We are trying to get answers from the doctors. Please keep praying.
I'm ready for Thanksgiving. Ready for a few days off work, food, family, and fun! 🙂
– Posted using BlogPress from my iPhone