My 4th of July weekend was busy, but great.
Friday after work I headed home to Hot Springs to see the fam.
Saturday, we swam, went to see Cars 2 with all the cousins, got mani/pedis, and went to my fave place EVER- Jose's. I just love everything there- the cheese dip, salsa, green salsa (still have no clue why its green…maybe avocado, maybe tomatillos, maybe alien slime?), the best quesadillas and awesome margaritas. It was yummy. We also celebrated princess Caitlyn's 11th birthday there. Then we watched fireworks on the lake and everyone spent the night at our house.
Sunday, we all went to church. Church was exciting because Caitlyn went down during the invitation to make public her decision to accept Christ! It was her 11th birthday and her birthday as a Christian! So exciting! I came back home after lunch at Outback.
We spent the 4th at Freedom Fest- a fun festival our hometown puts on. It started with a pancake breakfast and 5k run, but we got here just after noon to set up a booth for his business. It was quite hot, but it sure was fun to see everyone, hear the live music and pig out on fair food. I ate way too much and will have to diet all week to get rid of it all!
Me and Ty during the day.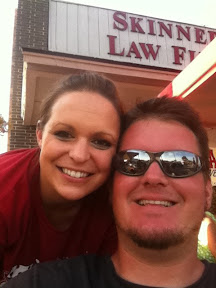 A local band called 10 Spur played before the fireworks.
And a great fireworks display topped off the night!
Hope you all had a great 4th of July!
-Posted using BlogPress from my iPhone