This morning I got up and got ready to meet Nancy, my MIL, at a pancake breakfast. A group from church hosted the breakfast to raise money for a mission trip to Nicaragua at the end of the month.
I wore my new trendy fedora I bought at a local boutique yesterday.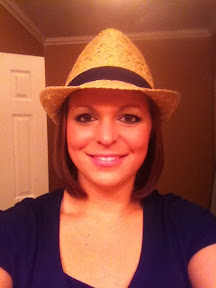 After breakfast, we sat and talked for a while and then headed downtown to go to a little shop called Creative Kitchen. I had never been, but Nancy had gotten me gifts from there before, as well as a birthday cake and I wanted to check it out myself. It was the neatest store! Part bakery and carry out ( with premade casseroles and such), part gourmet store with dips and sauces, part kitchen store with gadgets, and part gift shop with the neatest most unique stuff. I loved it! We bought a few things and also got a treat!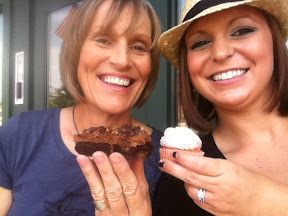 This was the best find- this precious menu sign that says Fiesta. It was perfect with all my Fistaware!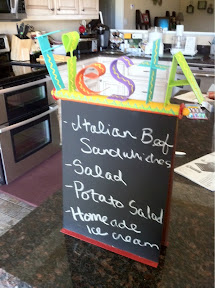 I spent the rest of the afternoon cleaning and cooking. We are having some friends over for the first time to our new house after church for lunch.
I am so excited to use some new things I recently got- like this double casserole tray! I have it all set up- we just need the food!
Now me and Ty are just hanging out watching movies and relaxing. Hope you all had a great Saturday!
-Posted using BlogPress from my iPhone