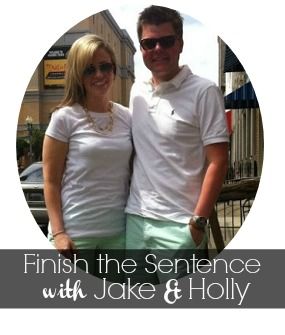 I'm linking up with Jake and Holly or Finish the Sentence today!  It's Christmas themed, like everything else in life right now.  Let's dive right in, shall we?
1.My favorite Christmas was….The first one in our house.  We had all of our friends over for a Christmas party and it was AMAZING to have our home so full of friends and laughter and love and cookies.
2. The worst Christmas I had…was the one when I was around 8 or so and I knew Santa wasn't real but I was scared to admit it.  I thought if my parents knew that I knew that I would stop getting gifts. I was so nervous to accidentally say something that let on to the fact that I no longer believed in Santa.
3. That one gift that made me scratch my head and say, "Hmmmm" was… the year Tyler gave me a Roomba vacuum.  I was still in college (so no real floor of my own to clean) and we were dating. I told him no more cleaning gifts unless prompted.
4. One year I….was so excited about the gifts I bought my mom that I made her open all of them before Christmas.  It was like I would get it wrapped and take it to her to open it.
5. I think the worst gift to give is…. Gift Cards.  While I love getting them, I feel like if I know what store they shop from, I should just buy them something from that store.
6. At Christmastime I typically….gain weight.  So many holiday goodies and I can't say no.
7. Typically, family Christmas….is funny.  Dad and Gram get impatient waiting their turn to open gifts (we go oldest to youngest…so they are last) and they sneak some gifts open when no one is looking.
8. If I could change one thing about the Holiday season….I would spread them out.  Thanksgiving and Christmas so close means the rest of the year doesn't have that holiday good fuzzy feeling.  I would love it if they were a little more spread out.
9. It is so hard to buy for….my in-law family.  Buying for Tyler's uncle and grandpa are so hard.  They are practical guys…no frills and no real hobbies or anything.  You can only give fancy flashlights and warm nice gloves once.  And I used those up last year.
10. My favorite Christmas tradition is…Christmas Eve service at church.  We focus on the real reason for the holiday, sing carols by candlelight….it's so beautiful.  If you live around Fort Smith, join us 4:00 pm Christmas Eve at the Greenwood Performing Arts Center at the school!
11. Santa, baby, bring me a ….iPad or a new iPhone.  And anything monogrammed.