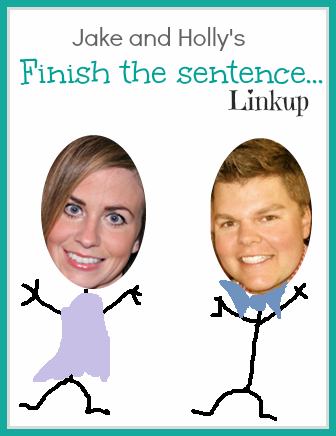 I'm linking up with Jake and Holly for Finish the sentence….
My best friend says… that I'm a bad influence. I'm not a party girl or anything, but I took her gambling and drinking for the first time.

People call me…lots of things. But my favorite is Bizzle (Tyler's endearing nickname for me)
The best part of my day…
is Zumba time on Zumba days. Or the few moments of quiet in the morning. Dog snuggled in my lap and coffee in hand.
I really don't understand… how I leave my husband at home all day and come home with it being DIRTIER than when I left. Does he know where the trash can is?

I get really annoyed… when people assume that because I'm young I'm stupid. Sure, I'm not the wisest person on the planet, but on some things, I may know more than you. I also get annoyed when folks misuse sale/sell.
There's nothing like a… new pair of shoes.

Lately, I can't get enough… Hanson. I can't wait for the new album June 18. Having doubts? Check out one of their new songs featured in an OKC Thunder promo.

One thing I am NOT is… sympathetic. If you are my friend, I'm capable of feeling sad with you. But most of the time, I want tio tell people to suck it up, buttercup.

I want to learn…. Spanish. I took German in school and don't remember most of it.
If I ever met

J

ake

in real life , I would… probably go on a drive around blaring music. He seems like the friend for that.
I can't stop… biting my nails.

Never have I ever… seen Lord of the Rings or the Matrix,

Reese Witherspoon… messed up, but I love her anyway. I mean, girl showed me how to rock a fully pink ensemble like a boss.