Linking up with Holly and Jake for Finish the Sentence!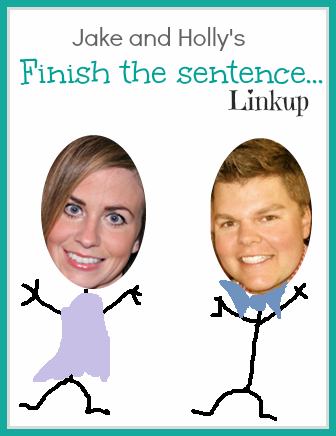 If I had one extra hour in the day… I would sleep.  I get a crap ton done during the day, but I could use another hour o' shut eye.

I wish my name…was Bethany.  I once tried to convince my best friend in 1st grade that Bethany was a nickname for Brittney, much like Bill is a nickname for William.  She didn't buy it.
 
I think anything chevron is…cute, but I'm almost over the trend.  Won't be buying much more chevron.
 
My last nightmare…involved me killing someone.  Someone I might like to kill.  So it felt a little too realistic.
 
Sometimes…I eat Cool Whip for dessert. Freeze it, and it's like chemical-laced, low-fat, low-cal ice cream!
 
My last meal on earth would be…my mom's "porcupine meatballs"  They are just meatballs rolled in rice and covered in gravy.  With mashed potatoes.
 
I would much rather be nice than skinny (but I'm trying to lose weight to be both).
 
Mayonnaise…is delicious on sandwiches.  Trumps mustard.
 
10 years ago, I didn't think…I'd be married to my redneck man.  I pictured coming home to a suited-up business man….not a AR-15 toting, dirt-bike riding man.
 
Selfishly…I want to take all my vacation days to trek around the country seeing Hanson.
 
My favorite show on TV right now…SUITS.
 
And, George Zimmerman…is overtaking the news.  Other stuff is happening, people.  Let's talk about everything else too.  I hate the media's gatekeeping, and the way they control what the "news" actually is.