Linking up with The Good Life Blog for Five on Friday.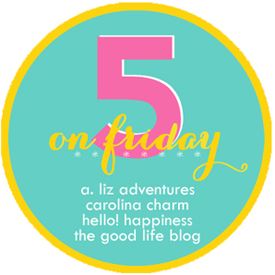 Here are the highlights from the week:
1.
Allegiant
came out Tuesday!  I was going to wait a little bit to start reading it…but couldn't help myself!  I'm about 100 pages in and loving it.  (However, I heard from
Erika
that I may not love the ending.  Either way, I'm sticking with it.)
2. I taught Tyler how to chop and saute an onion Tuesday night.  Life lessons in the Lee household.
3. My AMAZING friend Brandy went to Tulsa for work Thursday and brought me back some MMMHops!  As soon as she mentioned going, I said "OMG…will you be near a liquor store?" haha.  She is such a great friend and I can't believe I finally have my hands on MMMHops.
4. We have a 5k with work tomorrow.  That will be 5k #11 for 2013!  Woop woop!  I like our fun shirts for our team (there are many different companies within our parent organization…so our company is representing with these fun shirts!)
5. We have a pretty laid back weekend.  We are taking a drive down
Talimena drive
(so named because it stretches from Talihina, OK to Mena, AR.)  Should be BEAUTIFUL this time of year with the leaves almost at peak color.
Happy Friday, sweet friends!