**Edit/Update: Dad's scan came back clean! The spots they saw were just gallstones…which are SO much better than cancer! Praise the Lord!**
RECIPE AT THE BOTTOM OF THE POST!
So I spent all weekend preparing for our open house/housewarming party! Friday night I started baking and cleaning, and then Saturday (with the help of my amazing MIL) I got it all done Saturday. She even helped Tyler with the yardwork!
We had a GREAT turnout for the open house! We called it an open house because housewarming brings connotations of gifts…and we just wanted people to come look at the house- not feel obligated to bring gifts! So I baked a TON of goodies and we just opened our house for guests! We had about 60 people show up in a just a few hours! I was most surprised by my Aunt Bobby and Uncle Jerry showing up! They live about 2.5 hours away and they hadn't told anyone they were coming! So when they knocked on our door, I was shocked to say the least! ha!
I didn't take any pictures with people because I was busy showing them the house and talking, but these are all the goodies set up before the party.
This was the island stocked with all the goodies!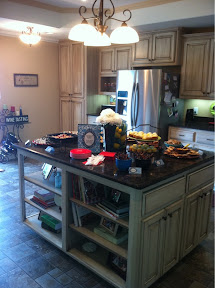 Lemon mini cupcakes!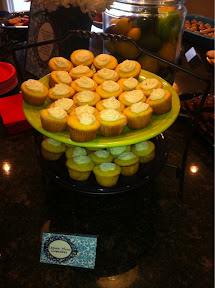 So many yummies: mango salsa with cinnamon chips, cinnamon bark, m&m brownies, vanilla petit fours, mini peach pies, brownies with peanut butter mousse, chocolate chip cookies and mini spice bundt cakes…
And these were the hits of the party: oreo truffles (aka oreo balls) and cheesecake stuffed strawberries (recipe at the bottom of this post!).
And I had lemonade, sweet tea and water in my pretty drink dispensers!
It was so great! We felt so loved that all these people came out to see the house and support us! Thankful for great friends and family who love us!
And for the recipe. These were seriously the hit of the party:
Cheesecake stuffed strawberries:
-1 block cream cheese
-1 cup powdered sugar
-2 tablespoons butter
-1 teaspoon vanilla
-1-2 pounds of strawberries
-1 cup crushed graham crackers
Cut off the tops of the strawberries and hollow them out (I just used a small paring knife and took out the middles with one circular cut around the middle).
Mix cream cheese, sugar, vanilla and butter with a mixer until whipped.
Put into a piping bag, or if you are like me, a ziploc and cut the corner off.
Pipe the mixture into the strawberry holes.
Dip the ends into the graham cracker crumbs…and enjoy!
SOO good!
– Posted using BlogPress from my iPhone