I am trying to use up our pantry stock. Combine that with wanting to make a casserole to heat up for dinner tomorrow night and watching a Food Network show about a Mexican restaurant…and I created this mash up last night.
Its a mix of mexican flavors-sorta 7-layer-dip-ish.
And it looked so purdy in my Fiestaware casserole (Cobalt Blue, ya'll).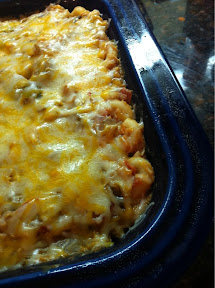 Mexican Chicken Pasta Casserole
Ingredients:
-1/2 cup dry macaroni (or any tube pasta), cooked
-1 12 oz can of chicken breast, drained (you could use any cooked chicken. Like I said, I was cleaning out pantry ingredients and we had canned chicken)
-1 can rotel, undrained (I used Mexican rotel. It is the Lime and Cilantro kind…but any kind will work)
-1 can fat free refried beans
-3/4 cup shredded cheese (I used Fiesta blend because that's what we had…cheddar or any blend would work)
-1 onion chopped
-1 bell pepper chopped (I had green on hand, so I used that)
-chopped mushrooms. I probably used 1.5 cups worth…but anything over one cup would work
-1 tablespoon taco seasoning, divided in two
-1 tsp garlic powder
-Saute onion, bell pepper and mushrooms with the garlic powder and half the taco seasoning until soft. Don't let them get too brown. We just want them cooked through til the onion is translucent and the pepper isn't crunchy.
– Combine the cooked pasta, rotel, chicken and other 1/2 tablespoon seasoning in pot until warmed through (I just used the pot I cooked the pasta in after I drained the pasta)
-Once veggies are cooked, mix veggies and bean mixture together. Taste test. Add more seasoning if needed, or some hot sauce if you like it hot.
-Grease a rectangular casserole and spread it out. Top with cheese and bake until bubbly. Top each portion with a dollop of sour cream and black olive slices (not pictured)
Would easily make 4-6 servings. I put this recipe in MyFitnessPal, and without the sour cream, for 4 servings, it comes in at 366 calories per serving. I think that's quite a generous serving for not so many calories! Lots of veggies and protein and a little dairy too! Healthy can feel indulgent! 🙂
– Posted using BlogPress from my iPhone