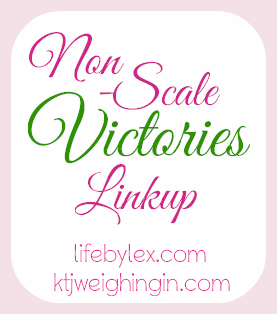 I am linking up with Life by Lex and KTJ Weighing In for Non-Scale Victories today.  If you are "new" to the weight loss world, a non-scale victory (or NSV) is something you can celebrate about your hard work that is not-scale related.  Of course, watching your weight is good…but it isn't the only measure of success.
So this week's non-scale victories for me…
…Going to Boot Camp Wednesday even though I was a little sore.
…Taking a small piece of cake at a work party Tuesday, and only eating a few bites.  It wasn't that great, so I put it down.  Old, fat Brittney would have eaten all of it anyway!
…fitting into some cute white jeans that I ordered! (now if the weather will warm up enough to wear them!  Boo cold front!)
…Running errands two days at lunch and NOT getting fast food. I came back to work and happily ate my healthy lunch I packed.
…being called "Skinny Minnie" by a guy at work! Love it!
I think it's important to remember these small NSVs so that you don't focus too much on the scale.  She's a rough one and she doesn't always show the payoff for the hard work.  But when you celebrate every good effort, you know you are working toward something GREAT!
If you are working on losing weight or getting healthier, link up and give yourself some credit for your non-scale victories!