Ok ya'll. I have not seemed to be able to get back on board the weight loss train.
I have teetered between great days on program and working out, to lazy pig out days. Not good. In fact, I'm so worried about weighing in and being disappointed and mad, that I haven't in a couple weeks.
I have been praying out my lack of motivation and will power, and I feel like this new Bible study I started is a great way to stick it out, at least for a while! The Bible study is 10 weeks. It is about ditching the oppression of the devil and being victors. Well, I really think that food has a hold on me sometimes, and it defeats me. So I am going to work during the duration of this study, 10 weeks, and document my 'path to victory'. I am following the lead of Ashley and taking a picture of myself weekly, so I can see progress in pictures, not just the scale.
Here is my picture today (excuse the no-makeup and rollers)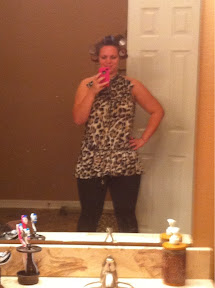 I am still wanting to have my weight be in the 150s. But I didn't weigh today. I think I'll wait a week to do that so I don't get too mad at myself for blowing it lately.
Ok, I'm going to do this. I have the strength of the Lord on my side. I know He wants me to break this stronghold of food and be victorious.

– Posted using BlogPress from my iPhone