I did some housework Saturday morning and then I headed to NWA for my sweet friend Kaylas lingerie shower. I got to Fayetteville early and did a lil shopping at my gave place- Gordmans! I got these cute shades!
Me with the bride to be at her shower.
Then I got back around 10:30 and Ty was at the rc car track. Rc cars are his latest hobby and he was racing. Our friend Greg came down too. This is Greg, Ty, and JJ. Ty won a race! So proud!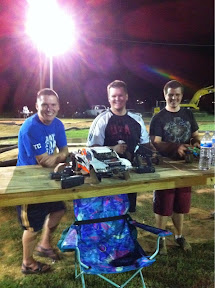 The track was a big deal. Lights, sound equipment and more. It is neat to have this in our town.
There is a big wooden platform for the drivers to stand on so they can see the whole track.
Today we slept in ( since we didn't go to bed until after 2!) and I made waffles and eggs for us. Greg stayed the night with us and it's been fun for him and Ty to hang out.
A neighbor came over to cut our pasture. We don't have any animals, so we don't need to bale it into hay, so our neighbor is going to cut it and bale it and keep the hay for his animals. Win win. We get our pasture cut and he gets free hay.
I put out my few 4th of July decorations in the kitchen.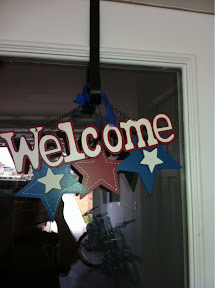 And I finally finished repainting our patio table and chairs. I love it!
That's our weekend!
-Posted using BlogPress from my iPhone