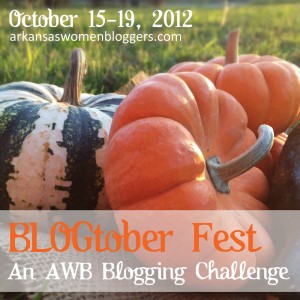 I thought for a long time about which post to post here for today's Blogtober Fest link up.
Today is about a blog post from the past.
I have been blogging here since November 2009. Wow. Three years almost!
I have lots of posts. Lots of posts that seem like they are just jumbled bits of our lives. I have posts where I share my heart. Posts where I share my deepest thoughts.
I could share my most popular post…but that is just a recipe. I could share the post with the most comments.
I could share about myself, about our wedding, our home, or about my love of Zumba.
But instead, I think I will share about the most important thing in my life: God and His faithfulness.
I blogged this back in March. I was in the middle of applying for the job I have now, and felt very nervous, scared, and anxious. This was a post about Faith and Fear. Feel free to go read it from back in the day, but I'm going to post the words here as well. Take heart, friends. God's love is more powerful than any fear!
"This past Sunday at church, our pastor Bro. Ronnie gave an amazing message on fear.
He has done a series on overcoming…and this week was overcoming fear.

He spoke about common fears: public speaking, snakes, failure, dying…but he said ultimately, we all have fears.

Long-term fears (like spiders) that haunt us. Short term fears (like
the safely of our children while they are away for a weekend…or
getting the house clean before company comes…or whatever). These
fears can seem big, small, insignificant…but in the long run…these
fears stop us from fulling trusting God.

God challenges us to be strong and courageous many, many times in the
Bible. Bro. Ronnie said "fear not" or "do not be afraid" or some other
anti-fear command appears in the Bible 365 times (one for each day!) but
he also said that many of those "fear nots" come with a "I am with
you." The Lord promises to go with us in all things (big, small,
insignificant) and therefore we can take courage in that.

He also explained that "be strong and courageous" really means "be
strong IN your courage" We hold fast to the courage that the Lord gives
us.

We watched a video of a man in our church who lost his wife to cancer.
This video was a very touching video of the man speaking about
confronting his fear of losing his wife, her confronting her fear of
treatment, and ultimately, him getting through his new fears of being
alone…all with God. This man and his wife claimed scripture over
their lives, and faced their battles with the courage of the Lord.

Ultimately, we overcome because of Christ. We belive in Jesus, He
overcame the world, and He lives in us. He goes with us in all these
situations, and we can take courage in that.

We looked at Deuteronomy and Joshua where over and over God tells him
"Be strong and courageous, for the Lord goes with you wherever you go."

I don't know what fears you are facing now…but take heart, friend!
The Lord is there with you and His presence gives us the courage we need
to face those fears! God doesn't promise for our lives to be easy, but
He promises never to leave us!

*if you want to hear this message, our associate pastor, Jeff, preached
this message and its online. This isn't the exact sermon I heard
Sunday…but Jeff preaches at our contemporary service. The message is
the same. Let God speak to you! Hear it here:
Jeff's sermon.*"