Today's SUYL is all about fur babies! We don't have any kids, we just have Mikey….and he is our joy.
Meet Mikey. He is a shih tzu.
We got him back in January. Tyler's mom heard of a family who was getting rid of him…and they couldn't pass it up.
We had to sort of hide him from our landlord until we moved in May…but he was great. He goes to work with Tyler every day, so he is an active doggy.
He loves to run. He will take off sprinting around the house, outside, anywhere. He loves to run. He quite the alpha dog and likes to chase other dogs, cats, birds, rabbits…anything that will run. We have to keep an eye on him when he is outside!
He LOVES his toys. He plays well with us (or anyone) and loves to play.
He likes to lay on the highest point around. On top of the couch. In the car, on the console (but we don't let him..that's dangerous).
This is Hootie Hoot. His favorite toy- an owl. He is like a little kid with this toy. He carries it everywhere. He will take it outside. He lays with it. He always looks for Hootie in the morning before we go outside. He won't go outside until he finds Hootie.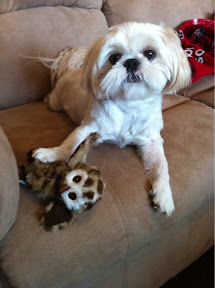 He also loves belly rubs. He will just lay like this waiting for a belly rub.
He lets us mess with him. I put my fake hair on him one night! Ha!
Life is hard as a dog. Gotta get that rest for tired puppies.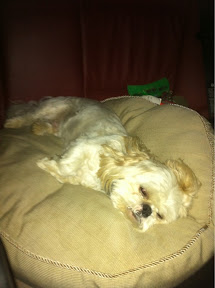 Mikey is so loved. He really made us feel like a family, not just a couple. He completes us…makes us laugh, gives us joy…and is the perfect dog. We love ya, Mikey!
– Posted using BlogPress from my iPhone