In honor of Halloween, I gave myself a crazy manicure! They are the Sally Hansen Salon Effects nail stickers…so easy to use! I'm in love!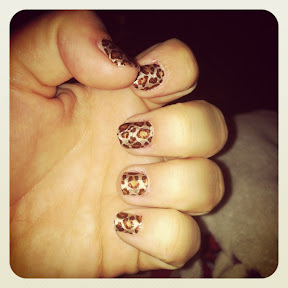 I bought some candy for Halloween (one bag was almost gone before the big day…thanks honey!) not knowing if we would have trick or treaters. Well, we had none.
I had our little light up pumpkin and porch light on, some ghost/pumpkins all lit up in the yard…pumpkin lights on our garage…and no trick or treaters came. Sad day.
But we did have a nice little quiet night at home.
I made some Halloween food (mummy dogs via pinterest), guacamole, squash, and some chocolate caramel apple slices and me, Tyler and Nancy (my MIL) ate dinner and carved a pumpkin.
Tyler carved LEE in the side! It looked so good!
We decided against using a stencil because we knew no one but us would see it (and why go to all the trouble of intricate carving when a silly face is just as fun?)….we just gave this little guy a silly face (including two different kinds of eyes!).
He was supposed to have fangs, but when I tried to remove the mouth, the fangs came along with it! Ooops!
We enjoyed a low-key evening. We topped it off by watching Wall Street from Netflix (I want to see the new one…so we watched the old one first). However, my HUGE problem: no DVD player in the living room…so when we get to the bed to watch, I fall asleep! I probably saw a total of 45 random minutes of the movie last night and couldn't tell you much of what happened! Oops again! 🙂
We are going to HAVE to move the DVD player from the guest bedroom to the living room so I can watch movies and not fall asleep. I just have my body so trained to lay in bed and sleep….I just can't stay awake once I lay down and get all cozy.
Happy November!
– Posted using BlogPress from my iPhone