We had a wonderful Thanksgiving!
Wednesday evening, we gathered with Tyler's family for a pre-Thanksgiving/birthday feast! It was his uncle's birthday, so we enjoyed soups, dips, and desserts together! (My MIL made some AMAZING taco soup and potato soup! sooo good!!) We played some games and tons of fun before heading to Hot Springs to spend Thanksgiving with my family.
They got my grandma transferred to the rehab wing of a local nursing home and she is doing GREAT! I LOVED getting to see her and visit with her. She is awake, alert, responsive (talking some…but still struggling with her words), and she even ate some mashed potatoes! Such an answered prayer!
I did several things over Thanksgiving.
dressing, sweet potato casserole, salads, rolls, mashed potatoes, macaroni and cheese, and many desserts. (Being on your period and ravenously hungry is quite acceptable over Thanksgiving.) We also made some game food for Friday's game and ate sandwhiches and dips and snacks. So much food.
We chilled. A lot. Watched TV, and I read Catching Fire, the second book in the Hunger Games series. I'm officially obsessed with these book and can not wait until the movies come out in March. I'm now onto the third book, Mockingjay. (this photo is mom's dog Gracie sitting on her while she naps. Gracie is always up in mom's personal space.)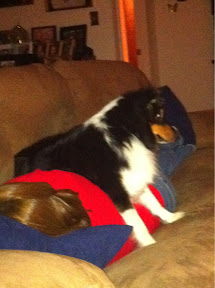 As painful as it was, we watched football. This was Mikey on the back of the couch and me during the first quarter of the Razorback game. We didn't play pretty, but it showed us why LSU is ranked #1.
We did do a little shopping. We decided to go to WalMart's 10 PM doorbuster sale. But we didn't want the crazy crowds, so we drove 30 minutes to the next small town over (which is also a retirement community…it was pretty mild for Black Friday doorbusters). Mom got kinda overwhelmed in the video game section, but we got my Christmas gift….a chest freezer! I was soooo excited!
They had all the items spread around the store and at 10 (or just minutes before) salespeople came by and unwrapped them…then it was a free for all! Things like video games went fast. Mom says people were just pulling them off the display without even paying attention to what they were grabbing. But things like my chest freezer didn't have anyone else waiting for them. We also bought a storage ottoman (for $29!) and some rubbermaids. Then on Friday we made a couple stops. We also hit up the craft fair on Saturday to support some local merchants for Small Business Saturday!
I helped mom put up the tree Saturday night and after Sunday lunch, we headed home.We had a great time at home and it was so nice to relax. Hope you all had a great Thanksgiving!