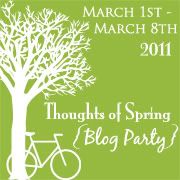 I thought I'd join the blog party and meet some new friends!
I will just answer some questions so you can get to know a little bit about me!
About me: I am Brittney. I live in Arkansas. I am a grad student, getting my Master's in Communication at the University of Arkansas. I am also a TA and teach two courses of public speaking. I also work part-time (soon to be full time) doing Digital Marketing at a car dealership. I am married to a great guy named Tyler.
We have been married (just one week shy of) one year. Tyler owns and operates a motorcycle shop. We are building a house. I am a big Razorback football fan. I love to be crafty, paint, make jewelry, and I'm learning to sew. I also love to cook and bake. However, I am currently dieting and have lost 40 pounds! I love to sing and dance. I collect (and am obsessed with) Fiestaware. I LOVE to Zumba and am getting certified to teach it soon. We have furbaby, a little shih ztu doggy, Mikey who we love and spoil!
Life is crazy busy for me as we live in one place, and work in another, but I'm super blessed by the Lord.
What celebrity/celebrities would create a "Star-Struck" feeling if you saw them in real life? I have met my favorite band, Hanson (its not ok to laugh. They are talented and continue to make great music!), but I would love to meet them again. I felt very star struck when I met them, and I'm sure that wouldn't change.
What is your comfort food/drink? My comfort is anything cheesy and yummy. My mom always made me grilled cheeses when I was sick, and those make me feel warm and cozy inside.
Be brave – tell us something very random and weird about yourself. I have a strange obsession with photo albums. My photo albums (I am very deliberate about printing off digital photos) MUST be in the order that I took them. I will spend hours organizing photo albums.
Name one weakness of yours (confession is good for the soul). I go weak for good mint-chocolate ice cream. Since starting my diet in September, frozen goodies have been few and far between. I have discovered since then that mint-chocolate ice cream is my weakness.
If you could live anywhere at all (and take all your loved ones with you), where would you go? I would live in Nashville, TN. I spent part of a summer there working a camp and fell in love with Nashvegas. I would LOVE to live there. So much to do, the music scene, the friendly southern town atmosphere, the big companies so lots of job opportunies, awesome restaurants…and the occasional celeb sighting!
When you leave a social gathering, do you wish: You would have talked more or You would have talked less? It depends. When I don't feel comfortable (meaning: I don't know many people or feel out of place) I don't talk much. However, when I am comfortable (which is probably 80% of the time) I know I talk too much. I am notorious in our grad school seminars for dominating the conversation 🙂
What is your greatest accomplishment? Well, I'm not 100% there yet, but when I graduate in May, not only will I graduate with a Master's degree, but I will have gotten a 4.0 in undergrad and graduate school. I'm pretty proud of that.
I would love it if you would follow me as I document my life….from finishing grad school, building our home, to my cooking and craft projects! This is me, Razorback Britt.