Yesterday I got to do something super fun with Zumba- perform at the Tulsa Shock WNBA halftime show!
Mom and I headed to Tulsa (just a couple hours away) and got there in time to rehearse with about 70 Zumba instructors.
Then we ate dinner and got ready and came to the game!

We got to watch the first quarter, but then I had to leave to get in place to perform!
We did the Zumba routine for "Pause" by Pitbull. I even cheesed it up enough to catch the cameraman's eye…I was on the jumbotron for like 30 seconds!
(See evidence of my cheeseing!)
There were 2 other instructors there from Fort Smith!
We left after the performance and saw a beautiful dusk sky over Tulsa.
We got back to the hotel, swam and enjoyed the hot tub and got to bed early. This morning, we got up and headed out!
Being that we WERE in Tulsa, I had to dress appropriately. My favorite band hails from Tulsa. 🙂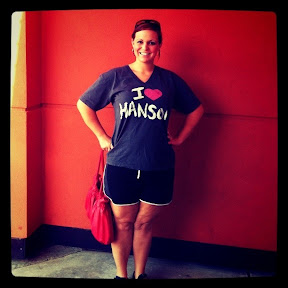 Mom helped me do a few things around the house today, like organize the office and touch-up paint before she headed home. Thanks for going with me and helping me mom! You are the best!
I am so thankful for Zumba! It makes me happy…and I get to do fun things because of the opportunies it opens! Yay Zumba!